Reading is one of Miss K's strong subjects but at the same time I am always looking to strengthen that skill. I think she is an excellent sight word reader but I want to continue to see if we can improve her reading skills. Miss K enjoys working on the computer so I was thrilled to be given the chance to review
Reading Kingdom Online
from
Reading Kingdom
.

"The Reading Kingdom is a fun, easy-to-use online program that teachers children 4-10 years old how to read and write to a third grade level."
The Reading Kingdom was developed by Dr. Marion Blank, an expert in literacy and language. She is the author of the book,
The Reading Remedy
. She has taken her experience and developed Reading Kingdom.
We have used various websites, book, and programs through the years as we build Miss K's reading skills. What makes The Reading Kingdom different and unique? Dr. Blank says that, Phonics is just one skill of reading and yet that is often the skill we are working to build but in order there are other skills needed. Reading Kingdom works to build not only phonics or sounds but also sequencing, writing, meaning, grammar, and comprehension. This is causing me to pause and think about how much time we spend working on phonics. I might just need to spend more time on sight words.
Miss K used the iPad for the Reading Kingdom. The touch screen makes it so much easier for her than using the mouse which requires a bit more skill. The program is designed to work best with Chrome which meant we had to download that to the iPad for use with this.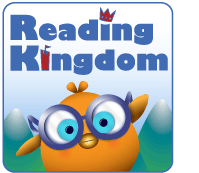 The first thing that the student needs to do is an assessment or evaluation to see the level the child is at and where to begin them. There is a reminder to the parents or teacher not to help the child but that this is to demonstrate what the child knows. That was a good reminder but it was repeated a few too many times for me.
This is a program that teaches more than just reading. I was surprised how much spelling was involved. That is not a strong skill for Miss K. I know at times that frustrated her. In order to work on the spelling skill it required using the keyboard, which on the iPad was an on screen keyboard. If she delayed in responding or typed the wrong letter, the program would guide her to the correct letter. I don't think Miss K has done much on the keyboard and that was something big that she needed to learn. I think over the few weeks that we have used this she has improved.
It is recommended that Reading Kingdom be done at least four times a week. I can see the value of that. The program does track visits. I received emails telling me what levels Miss K has finished. She was working to get the points to go to the next level.
Reading Kingdom offers a 30 day free trial.


Beth