For the past few weeks J has been reviewing
Olim, Once Upon a Time in Latin: Derivatives I
from
Laurelwood Books
.

Laurelwood Books is an online book shop for homeschooling. With more than 25 years of experience in Home schooling, Laurelwood Books has experience to help home schoolers. Laurelwood Books sells both new and used homeschool curriculum from various publishers. I enjoy wandering through used book stores and this is one that I can do online. They have a wide variety of things listed but also mention to let them know if you are looking for something specific.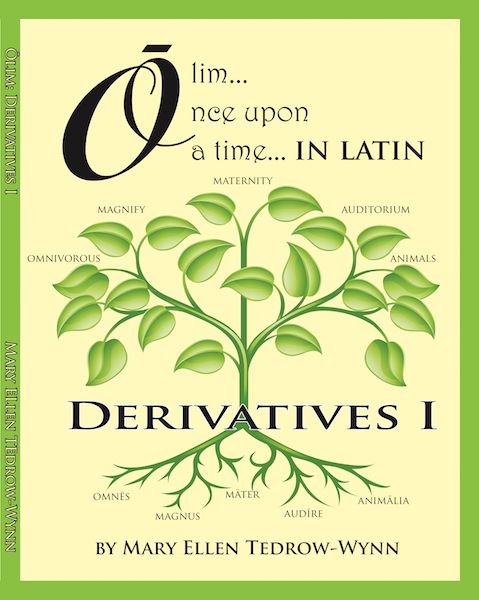 Laurelwood Books has also begun to publish books for homeschoolers. Olim, Once Upon a Time in Latin: Derivative I is one of the books written by Mary Ellen Tedrow-Wynn. This is a stand alone workbook or can be used with another Latin program. This is designed for fifth or sixth graders. This is a workbook with 15 lessons with a schedule to do a lesson over two weeks. In these lessons 150 Latin words are taught with various activities to reinforce the learning.
In the beginning of the workbook there are Notes to the Teacher which includes a schedule of what to do each day over a two week period for each lesson. Since this can be used as a stand alone book there is a "How to Pronounce Latin" guide and a review of Roman numerals.
Each lesson begins with 10 Latin words, the meaning and some of the derivatives of that word. Then there is a place for the student to trace the word, meaning, and derivative in cursive or joined writing. Then there are some exercises, fill in the blank or matching using the derivatives from the lesson.
There are no quizzes or tests. There is an answer key in the back of the book.
Why did I select this for a review?
I find it helpful some times to understand the thinking as to why something was selected. I will share a bit of my thoughts with you. J has done Latin for the past few years but as we move to a modern foreign language I was not sure how much more Latin we would do. I was interested in this because I felt that this might give a bit more Latin.
How did we use this workbook?
As I mentioned, there is a schedule in the book to do a lesson over eight days. I assigned a lesson a week for J. This was just something that I was able to give to him and he was able to do on his own. Each lesson took him about 15 minutes.
What are our thoughts after a few weeks?
I realised that I underestimated how much Latin and roots J really knows. This is designed for fifth or sixth grades and I knew that would be below J's current work level but I thought it would be different. This did not challenge J.
I love the concept of a book to learn derivatives. I love the idea of a stand alone book to learn these. I like this book except the tracing part but that is just me. It was a bit easy and not challenging but that is mainly because of age and previous learning. This would be great for the student that has not studied Latin.
Read other reviews of other books from Laurelwood Books to learn more about the books they offer.


Beth